Electric toothbrushes win the head-to-head against manual in record breaking new study
Date: 31 October 2019
Electric toothbrushes clean teeth and gums much better than a manual toothbrush, according to the findings of a new study.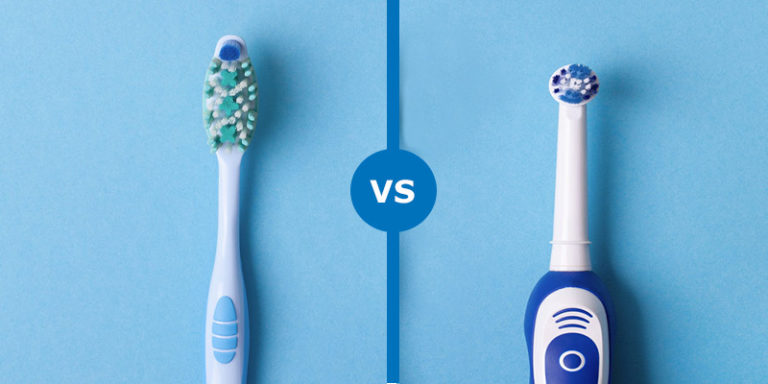 Scientists found that people who use an electric toothbrush have healthier gums, less tooth decay and also keep their teeth for longer, compared with those who use a manual toothbrush.1
The ground-breaking research took 11 years to complete and is the longest study of its kind into the effectiveness of electric versus manual brushing.
Chief Executive of the Oral Health Foundation, Dr Nigel Carter OBE, believes this study backs up what smaller studies have previously suggested.
Dr Carter says: "Health experts have been speaking about the benefits of electric toothbrushes for many years. This latest piece of evidence is one of the strongest and clearest yet – electric toothbrushes are better for our oral health.
"Electric toothbrushes, especially those with heads that rotate in both directions, or 'oscillating' heads, are really effective at removing plaque. This helps keep tooth decay and gum disease at bay.
"As the science behind the advantages of electric toothbrushes is mounting, the decision whether to invest in one becomes much easier."
A recent poll by the Oral Health Foundation found that less the one in two (49%) British adults currently use an electric toothbrush.2
For almost two-in-three (63%) electric toothbrush users, more effective cleaning is their reason behind the switch. More than a third (34%) have been persuaded to buy one because of the advice of a dentist while around one in nine (13%) have received an electric toothbrush as a gift.
For those who use a manual toothbrush, the cost of going electric is often a turn off. However, Dr Carter says that electric toothbrushes are more accessible than ever before.
"As technology has developed, the cost of having an electric toothbrush becomes even more affordable," adds Dr Carter. "Battery-powered toothbrushes are available for as little as £10 while electric brushes can be had for as little as £30.
"Given the advantages of electric toothbrushes, having one is an excellent investment and could really benefit the health of your mouth."
Further findings from the Journal of Clinical Periodontology, found that electric toothbrushes resulted in 22% less gum recession and 18% less tooth decay over the 11-year period.
Dr Nigel Carter says : "It's important that whether you currently use an electric toothbrush or not, you should be following a good oral health routine.
"That means that whether you're using a manual or electric toothbrush you should be brushing for two minutes, twice a day, with a fluoride toothpaste. Also, a good oral health routine would not be complete without using an interdental brush or floss once a day.
"If you follow a good oral health routine then whether you use a manual or electric toothbrush, you'll have a healthy mouth either way."
For more oral health information you can head over to www.dentalhealth.org. Alternatively, you can call our free and impartial Dental Helpline on 01788 539780.
REFERENCES
ORAL HEALTH FOUNDATION (2018) 'National Smile Month Nationwide Survey 2019', Atomik Research, May 2019, Sample 2,003.
Pitchika, V, Pink, C, Völzke, H, Welk, A, Kocher, T, Holtfreter, B. Long‐term impact of powered toothbrush on oral health: 11‐year cohort study. J Clin Periodontol. 2019; 46: 713– 722. https://doi.org/10.1111/jcpe.13126
Adapted by Institute of Dental Implants & Periodontics from original dentalhealth.org post (Jun 2019)
Read original article