Trefoil Treatment concept
If you are missing all your bottom teeth or only have a few teeth left that are on the way out, it can be embarrassing and troublesome. In the past, dentures were the only option to restore function (and appearance). Dental implants then gained prominence as a better way to restore lost teeth. A recent and exciting innovation in implant dentistry known as the Trefoil treatment concept, is a revolutionary new system that restores a full arch of missing bottom teeth in 24 hours with a new innovative system.
Trefoil implants; a revolution in implant treatment offered at the institute of dental implants
Dr. Danesh-Meyer is currently the only dental specialists trained to place the Trefoil implant system in New Zealand and offers this incredible innovation to those patients who are struggling with the loss of the full set of bottom teeth. The precision fit feature in Trefoil implants, and the ability to have functioning teeth after one appointment makes the system far superior to earlier versions, and can be more affordable due to reduced treatment time.
Who is a candidate for trefoil implants?
The ideal candidate for Trefoil implants has either experienced extensive tooth loss, with only a handful of compromised teeth remaining or is missing all their teeth in the lower jaw. To be a candidate for the procedure, you need to have good general health, and your mouth should ideally be free of any significant infection. A certain level of jawbone height and width is required for the Trefoil implant to be inserted properly. Dr. Danesh-Meyer and the Team at the Institute of Dental Implants & Periodontics can help you determine if you meet the minimum requirements needed to have Trefoil treatment.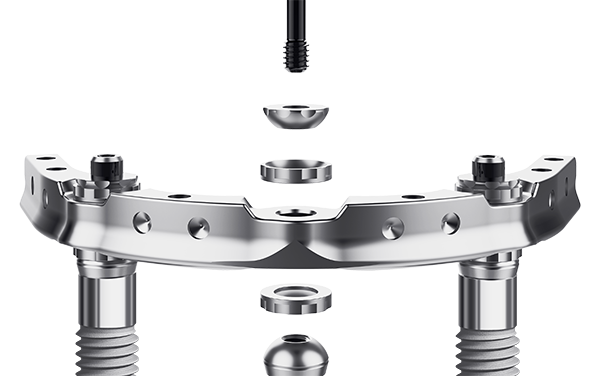 New fixed teeth within 24 hours:
The Trefoil system allows patients to restore a full set of bottom teeth within a 24 hour period, with the final implant bridge being placed directly onto the implants the day after surgery, compared to other systems that often involve months of waiting while the implants heal into the jaw bone. With Trefiol treatment, patients seeking replacement bottom teeth can have a fast restoration with an implant bridge that looks and functions like natural teeth.
How it works - the technology behind trefoil
The Trefoil system is produced using a titanium bar and an acrylic prosthesis. The pre-manufactured titanium bar is manufactured with adaptive joints that allow for small deviations in the positions of the 3 implants placed in the lower jaw. This allows for the implant bridge (with 12-14 teeth on it) to fit very precisely onto the implants and also enable the bridge to made and fitted within 24 Hours of your surgery.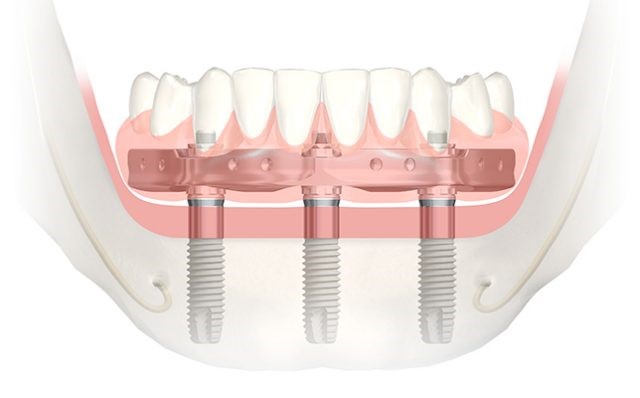 Procedure steps
The fact that the Trefoil treatment relies on pre-manufactured titanium bar means it is not only a more effective treatment protocol but also dramatically reduces the total treatment time. First, there is a comprehensive examination and work up. After planning is completed, surgery in planned. Guided surgical placement of 3 titanium dental implants is undertaken in the lower jaw. This is undertaken under sedation (twilight sleep) and local anesthetic. The final implant bridge is then attached to the 3 implants the following day, providing immediate aesthetics and function with your new lower teeth.
Recovery time after trefoil implants
Recovery time varies between patients and depends on age, general medical health and presenting condition of the mouth. Dr. Danesh-Meyer will give you detailed aftercare instructions to expedite your healing process. You can resume brushing the same day as your procedure, avoiding the surgical sites. Avoid strenuous activities for a few days while you are in the initial phases of healing. You should adopt a diet of soft foods for seven to ten days. Your healing will be closely monitored after the implants are placed.
Expected results
Once you have recovered from the surgery, you will be able to enjoy a beaming smile full of beautiful teeth. Your balanced, natural smile and fully-functional set of teeth will boost your self-confidence and give you the ability to smile and eat with total confidence.
| | | | | |
| --- | --- | --- | --- | --- |
| | | | | |
| | BEFORE | | AFTER | |
What is the cost of the trefoil treatment?
The surgery and prosthetic cost to provide the Trefoil full arch treatment in the lower jaw is $19,990.00. This cost excludes any bone grafting (which is rarely required) or medications. Twilight sleep intravenous sedation for the surgery is an additional cost of approximately $1500-2000.
Learn more about other multi-tooth replacement options click here.