Clinical Case
The clinical case below shows an All-On-4 case completed by Dr Daneh-Meyer, Director at the Institute of Dental Implants & Periodontics. The All-on-4 treatment concept involves placing 4 dental implants in the lower jaw and then fabricating a fixed implant bridge to be screwed down onto the implants. This is as close as you can get to reinstating you own teeth. The implant supported bridge needs to be brushed and cleaned just like real teeth. No more removable dentures, enjoy the comfort and confidence of an implant supported full arch bridge.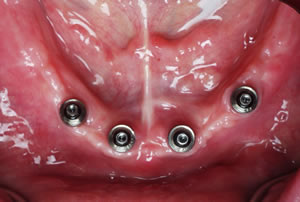 1. Placement of 4 dental implants into the front of the lower jaw. This picture shows the implants just before attachment of the tooth bridge.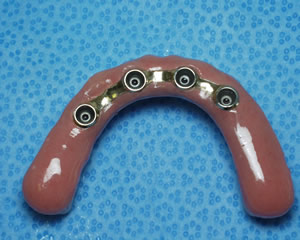 2. This picture shows the under surface of the fixed implant bridge before being delivered to the mouth and being attached to the dental implants.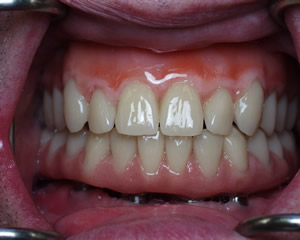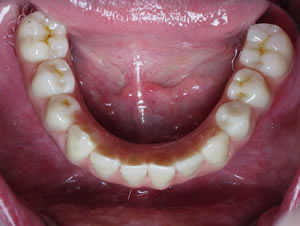 3. The lower bridge has now been attached to the dental implants. Note the lower lip has been pulled right down to show the bridge/ implant arrangement. This bridge is rigid and fixed in the mouth. It can not be removed like a denture and makes eating as good as it was with your own teeth. You even have to brush them every day, like your own teeth! In this case the lower implant bridge is apposed by a full upper denture.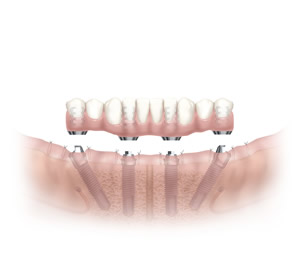 4. This diagram shows how the implant bridge seats down onto the 4 implants. The bridge is permanently screwed down onto the implants.