Preoperative Procedures
Initial Examination
The first step is an oral examination to discuss treatment options and to determine the best solution that suits your individual needs. Initial impressions may also be taken to allow for fabrication of study models.

Diagnostic
X-rays and Cone Beam CT 3-D scans are taken to determine final position of the implants. The X-rays allow for the careful evaluation of the bone quality and quantity for dental implant placement. Pretreatment photographs and cast models are also prepared.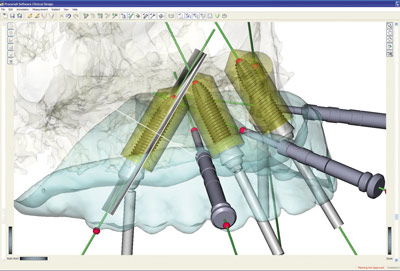 Virtual Surgical treatment planning is undertaken using specialized implant treatment planning software allowing the surgeon to carefully evaluate the jaw bone and position the dental implants prior to surgery.
Work-up
Information from your clinical examination and xrays is used to plan the optimal position of the final teeth for aesthetics, function and speech. NobelGuide precision CAD software is used to plan your implant surgery and allows for very accurate implant placement and thus reducing risk.
The NobelGuide software allows us to plan your implant surgery in a virtual world before actually undertaking surgery. A special customized guide is also produced at this stage to be used during your surgery to ensure accurate implant placement.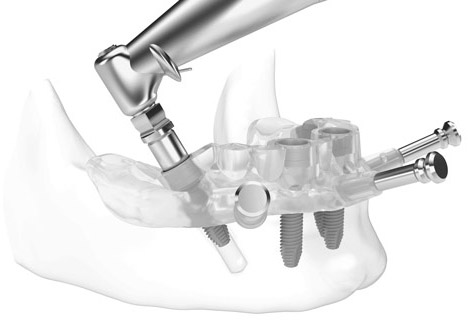 Diagram show the use of custom surgical template (NobelGuide) for the placement of the dental implants. This highly precise surgical guide is produced from the surgical planning undertaken with the information obtained from 3D x-rays and using virtual treatment planning. The template is then manufactured using stereolithography through industrial manufacture. This allows for very accurate and safe placement of the 4 dental implants.